Stay cool this summer with some fantastic community art from keii4ii, creator of Heart of Keol (featuring Marduk from The Ferrin, Michael from Michael, and Eve from Littlelight Asylum) as well as a summer-y summary of what's washed up on our shores!
Application Season, Convention Appearances, and New Releases
New Chapters and Milestones
Appearances, Books and Anthologies!
SpiderForest will be at Vancouver Comic Arts Fest! Stop by and visit Katherine Lang of
Soul to Call
, Ally Rom Colthoff of
Chirault
, and Christina Major of
Sombulus
, and check out the debut of our first SpiderForest anthology,
Threads
!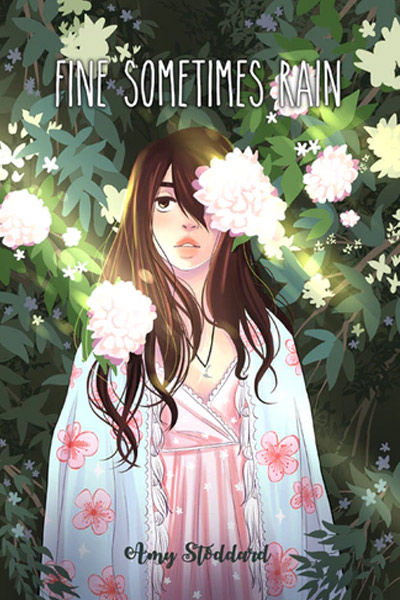 The Fine Sometimes Rain Kickstarter will be running until May 18th!
We are just a couple backers away from the halfway point to the Frida enamel pin stretch goal. Be sure to share the link if you want to hit the stretch goal!
Group Chat
– a comics anthology about friendship, is on the last days of its
Kickstarter
. It features a short sci-fi comic by Katherine Lang of
Soul to Call
. Don't miss out on this heartwarming series of comics celebrating the people who have your back no matter what.
•
Colin Tan Wei (illustrator) and Adam Ma (writer) will be making an appearance at TCAF! If you're attending, be sure to say hi!
Folklore's fifth issue has been completed, and is back to updating regularly each week.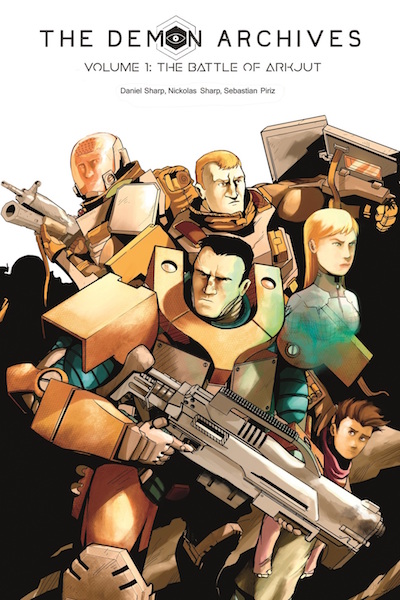 The first print volume of The Demon Archives has arrived!
Compiling the first 3 chapters and clocking in at 88 pages, join power-armored soldier Tenzin and his AI Jane as they investigate the empty city of Arkjut.

The Webcomic Almanac Anthology is on sale May 1-31, with all proceeds being donated to Project HOPE! This digital collection of webcomic art features Starlia Prichard of Castoff, Eliana Falcón of Cosmic Fish, Katherine Lang of Soul to Call, Christina Major of Sombulus, Julian Dominguez of Littlelight Asylum, Kristen Kiomall-Evans of XII: Of Magic and Muses and more.

A New Chapter Begins!
Cat Legend is returning after years of dormancy! New pages will post Monday and Fridays.

We are happy to welcome Year In Hereafter to SpiderForest, sister comic to Tistow and Tistow: Small Trolls. Welcome to the forest!

October 20 kicks off its third and final chapter, titled 'The Writing on the Wall'. Before the story reaches its conclusion, Cat and Rai are forced to face all their demons. And no-one walks away unscathed.

Chapter Complete!
XII: Of Magic and Muses is now posting Mondays and Wednesdays! Chapters 6 and 7 are now available at
the store
&
the patreon
.
Chapter 4 of Soul's Journey will wrap up in early May. Next up is the fourth intermission.

Chapter 6 has concluded for Obscurato, now is a good time to catch up. Obscurato is a fantasy adventure about a warrior grandmother on a quest to save an old friend and protect her family.

Here's a big shout out to all of the participants in 2018's Comic of the Week! Thanks for promoting your fellow creators! Also a BIG thank you to all the readers who gave each COTW spotlight a look, a like, and perhaps even a RSS listing! Each and every one of our comic creators appreciate the love – and hope you'll keep coming back!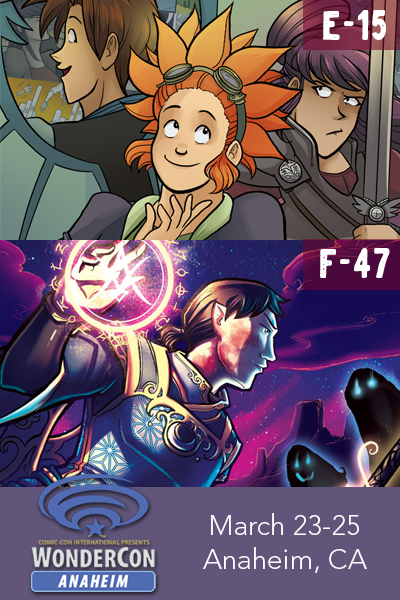 Jemma Young of Children of Eldair and Christina Major of Sombulus will be in the Artist Alley at Wondercon in Anaheim, March 22-25! Be sure to visit them!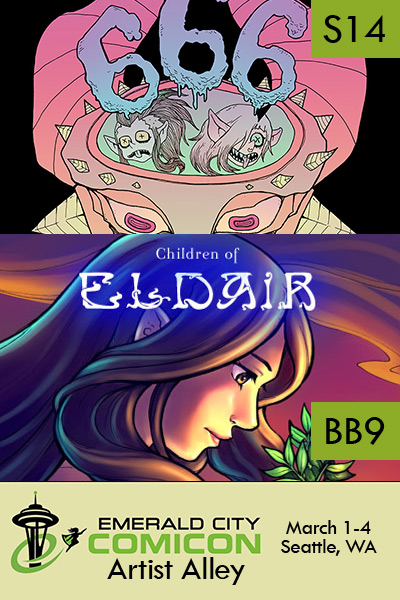 Laura Graves of
666 Bistro
and Jemma Young of
Children of Eldair
will be at Emerald City Comic Con Artist Alley in Seattle, WA March 1st-4th! Laura will be debuting the third chapter to
666 Bistro: Mechadeth Hangar 666
and will be on the Spooky Comics Panel on Friday March 2nd 2018 at 17:15 – 18:15!!
Jemma Young has also launched her second Eldair Kickstarter, which will run till March 26th! You can order both books and one two along with the short side comic "Sorcerer Courtship" during the campaign!

SpiderForest on Kickstarter: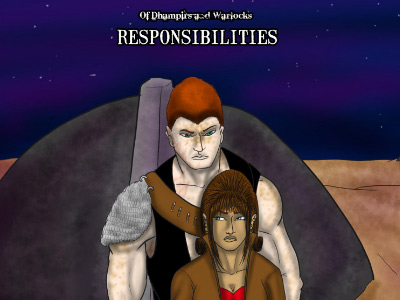 The Only Half Saga's
current chapter "Bittersweet Memories" comes to its conclusion on March 1st. That means the new (and last) chapter of the story arc begins on March 8th! It's time for goodbyes, as Sagira leaves the Mosier Facility and heads out into the world. Garrett begins to wonder is Sagira's just tolerating him long enough to escape her family, before dropping him like a hot rock.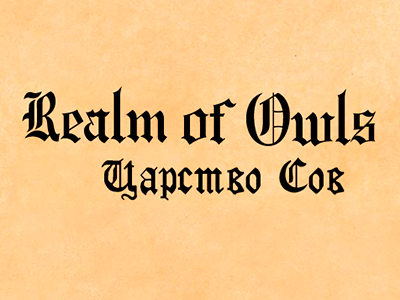 Realm of Owls
is getting a Russian translation! The translated comic is published on
comics.ru
platform and the publication schedule will be daily until it catches up to the original.
The Ferrin will be going on every other Monday updates till May.
Kickstarter Books Shipping Soon!
Great news, Kickstarter backers! We've received our shipment of our Threads Anthology and will be shipping it out to backers soon. Keep an eye on our Kickstarter page for more info!


Closing the Chapter
Littlelight Asylum
finished its first book! While the team works on the next one, Littlelight will be taking a break until a good enough buffer is done. Guest art will be posted in the meantime!
Gemutations:Plague
began updating twice a week on November 27th and plans to be wrapped up by December 18th! That's right, after eleven years running, Plague will come to its conclusion!
As a way to bridge the gap between the current story and its sequel "Michael", Darwin will be posting a prose special for the holidays "First Christmas!" Join Steve, Tom, Sarah, Maribel, David, and Angelina one more time as the couples spend their first Christmas celebration together!


Buffer Breaks
Arbalest
will be on break for the month of December while Leah bulks up the buffer (and possibly even takes some time off to spend with her wife). The comic will return on January 1, 2018 with a brand new update structure, so stay tuned!
Sombulus
will be changing its schedule to once a week on Tuesdays through the month of December.
Damsels Don't Wear Glasses
will be taking a break throughout December, featuring guest pages from four different artists.
Now on Kickstarter – The SpiderForest Anthology!
The SpiderForest Anthology Kickstarter is running now through July 14! Help bring to life our book of 20 never-before-seen comics and also get enamel spider pins, comic cameos, custom art, and prints!


New Book Releases for July
New Chapters and Milestones
SpiderForest would like to extend a big welcome to our newest members for the Spring 2017 application season! Check out their amazing comics!
Sword-Swinging, Spell-Slinging Fantasy
Space & Unseen Worlds!
Slice of Life (or Death)
The Spiderforest Forums
have a whole new design! Mobile-friendly and available in dark and light styles, our forums are open to everyone, regardless of SpiderForest membership! Thanks to Alyssa for coding the design, and the combined efforts of KEZ, Tiana, Thane, and Kat in getting it all live! Definitely let us know if our spiders didn't quite wrap up all the bugs, will you?
Comic of the Week wraps up the week of December 19th! Our members thank their fellow creators for plugging comics each week to their audiences and all the new readers for taking time to check out the different comics offered!
Sweet New Stories and Merch!
Arbalest will be on vacation for the month of December, returning on January 2. In the meantime, check back for guest art!

The Sundown Boys just finished up Chapter One and will be taking a short break. The chapter two cover will go up on December 18th, and then the first page of chapter two will go up on January 1st, which is when regular updates will resume.
| | | |
| --- | --- | --- |
| | | |
| Soul's Journey's archive will exceed 100 pages in December. | What it Takes reaches 700 story pages, with some major plot reveals! Death's doorstep just got a whole lot closer. | XII: Of Magic and Muses has rolled straight into Chapter 2! |
| | | |
| 6-Commando is back with a new season, a new chapter, and the women and men of the United Nations Multinational Forces Africa are facing their biggest crisis yet: a five thousand ton tank named Victor with nuclear weapons, and a bad attitude. | Panthera is coming out of hiatus and back to a bi-weekly update schedule for the time being. We hope you enjoy the rest of the chapter as the team deal with the revelations of who they have to fight. | Castoff wrapped up its 3rd chapter in November, and is headed straight into chapter 4! The sun rises on a new day for Vector and Arianna, but what awaits them in the coming hours? New dangers? New friends? Maybe both! If you're behind on the story, now is the perfect time to get caught up! |
Nine spiders, one weekend!


Stop by the SpiderForest table (E 12-13A) at Small Press Expo on September 17-18 in Bethesda, MD to meet the creators of Witchery Etc, Xylobone Tomes, LaSalle's Legacy, Altar Girl, Precocious, Heracles Knot, Chirault, Sombulus, and Sunset Grill! That's a lot of spiders!

Thank you, August applicants!


We received 38 applications and are busy reviewing everything and preparing invitations to our new members! Results will be emailed in the coming weeks and announced mid-September. Stay tuned!



New Chapters!
New Books, Prints and Merch!
Kez is out of town September 17-24. What it Takes fan art to put up during that week would be most welcome!

The last page of the current Plague chapter "One Last Time" will be on September 26th. Being that Darwin's taking a month's breather in October, that means the new chapter "End of the Line" will not start until October 31st (HAPPY HALLOWEEN)!

Speaking of Hiatus! Darwin is looking for guest art/comics/fanstories to fill in on both TOHS and Plague for the four weeks she'll be out! Please contact her at tgrshrk06@hughes.net if you're interested in helping out!
Witchery Etc. Chapter 03 will be ending in September, and will be taking a brief hiatus before Chapter 04 starts in October!
SpiderForest is opening up applications for new webcomics to add to our collective starting August 1 and running through August 22!
What are we looking for?
Comedy, Horror, Mystery, Sci-Fi, Fantasy… you name it! SpiderForest is a collective of independent creators who craft original strip-form and long-form fiction webcomics. We help each other reach new audiences, share project and art exchanges, and get feedback from a like-minded group of peers. A friendly, positive environment that encourages respect and growth, we help comic artists at all levels learn from our experiences as artists, storytellers, and promoters through our forum-based community.
If you create a comic and this sounds like a place you want to join, please review our application page and associated FAQ for more information. Questions may be directed to our forums or to admin@spiderforest.com.
Our forums are open to join for everyone, so stop on by, tell us about your comic, and see what our community is all about!
Conventions!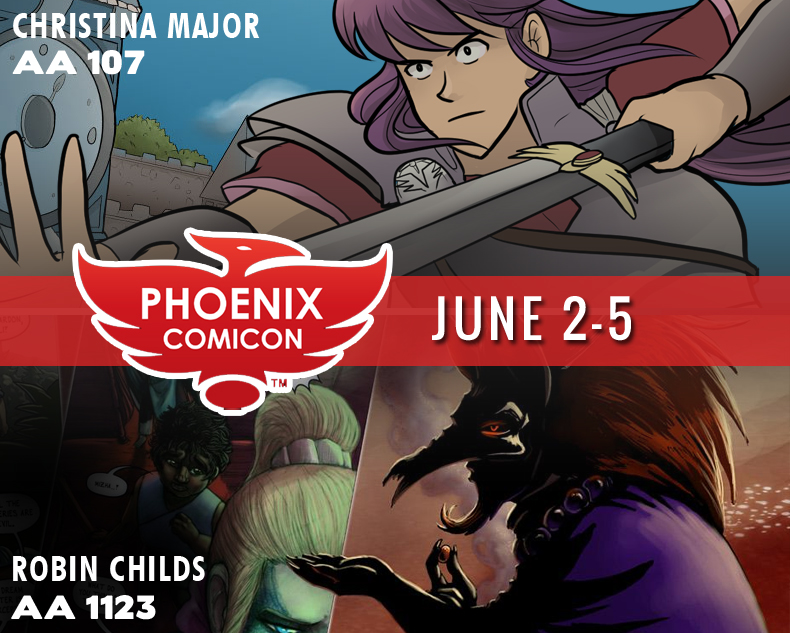 Robin Childs of
LeyLines
and Christina Major of
Sombulus
will be at Phoenix Comic Con June 2-5! Also catch Robin at Denver Comic Con June 17-19!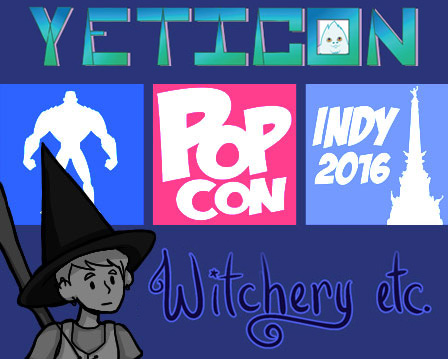 Witchery etc.
will be at
Yeticon
in Ontario, Canada, June 10-12 and at
Indy PopCon
in Indianapolis, IN, June 17-19. Come stop by the artist alley and say hi!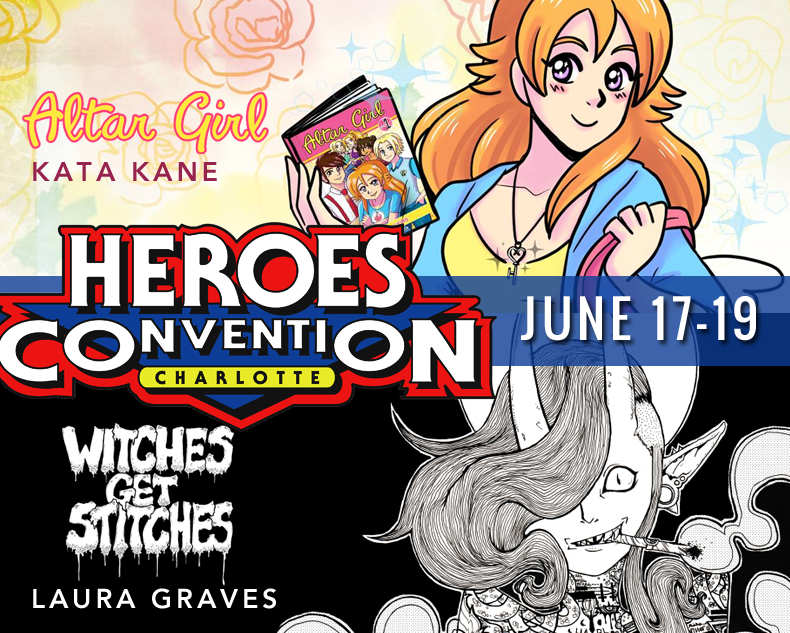 Kata Kane of
Altar Girl
and Laura Graves of
Witches Get Stitches
will be at Heroescon June 17-19! Also catch Laura at Olympia Comics Festival in Olympia Washington June 4!
New Books!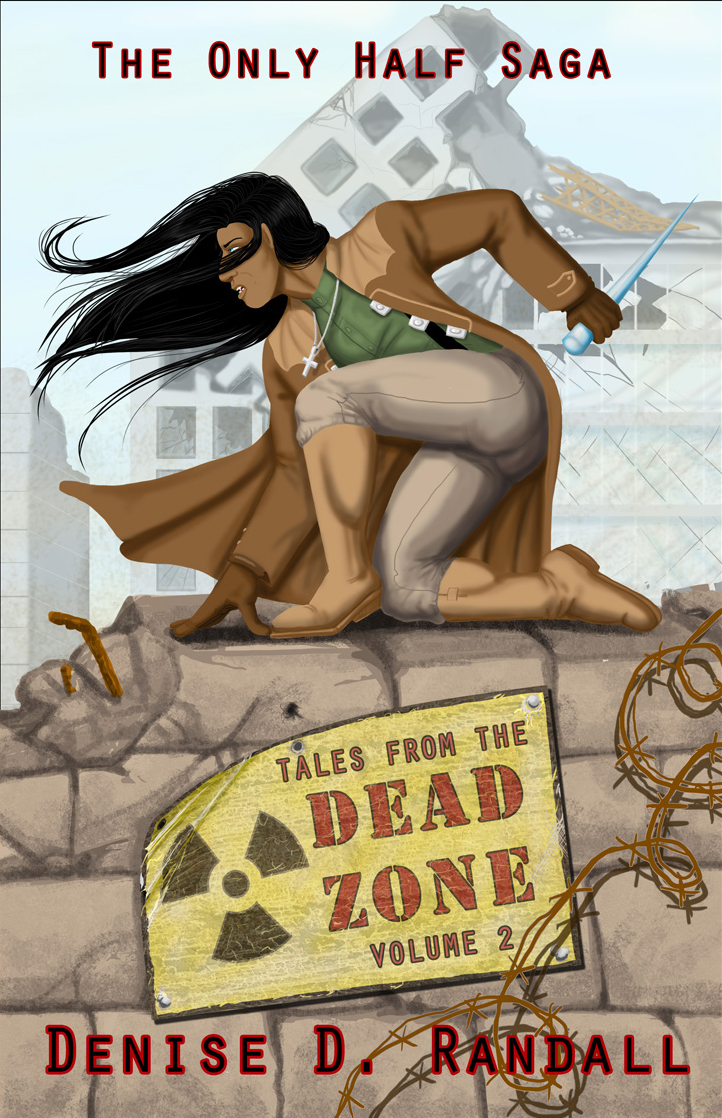 Just in time for The Only Half Saga's 10th Anniversary Celebration, TOHS's Dead Zone (Vol 2) will be coming out June 10th! Join Darwin as she spins another set of yarns that give more depth to the TOHS universe and characters! Will be available in print and Kindle versions! Check out her
Amazon Page
or
Darwin Comics
for more details!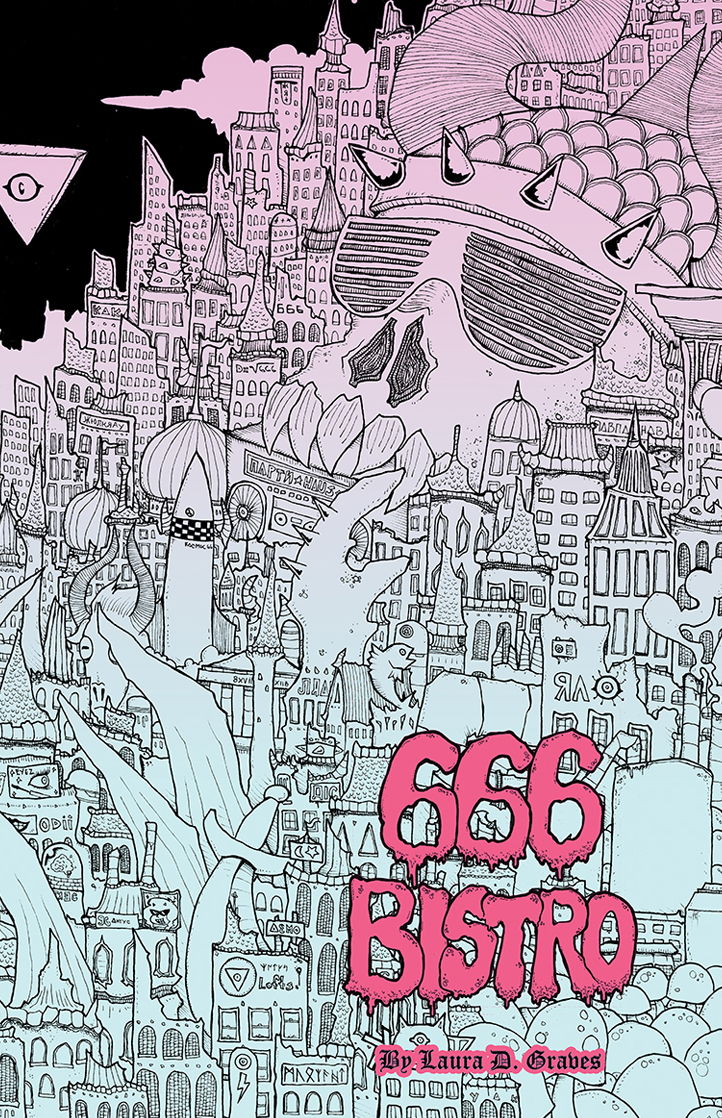 Laura Graves is releasing a new coloured edition of 666 Bistro debuting at Heroescon! Archvold finally has a new job working at the restaurant 666 Bistro! She now works retail in HELL literally! Her boss is a cannibalistic chef extraordinaire and Archy now must search for rare and unique and exotic ingredients or her boss will use her instead!
Celebrations!
On June 3rd, Chirault reaches its 1000th page! That's as much as 100 tens. And that's a lot.
Requiem turns 12 on June 7th!
School Spirit turns 12 on June 12. The strip will then officially be older than the chronological age of most of the kids…
Mitsukaiten of Arbalest is getting married this month!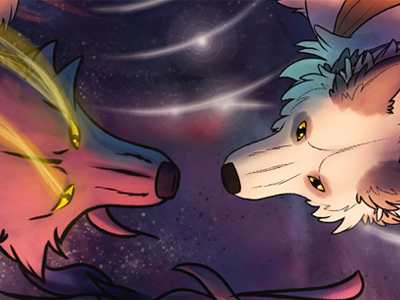 Soul's Journey
is about to wrap up the intermission and will start with Chapter 3 on June 16th.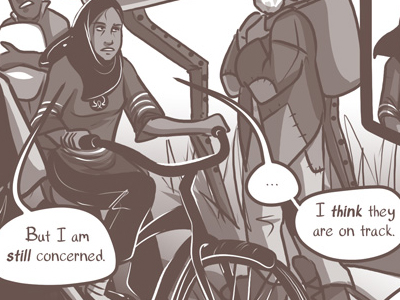 What it Takes got its own domain! Please change your bookmarks and visit it at
acityinaplace.com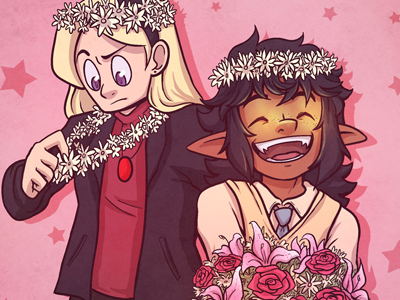 Castoff
just wrapped up chapter 2! If you've been meaning to catch up on Vector and Arianna's misadventures, now is the perfect time! In addition, the comic will be taking a short break during the first half of June, but will be posting guest art M/W/F during the intermission and returning to twice-weekly updates on June 13th!